I'm really pleased to let everyone know that I am in this month's issue of
Popular Crafts
magazine - there's a short history of passementerie in England, and a frog fastener tutorial.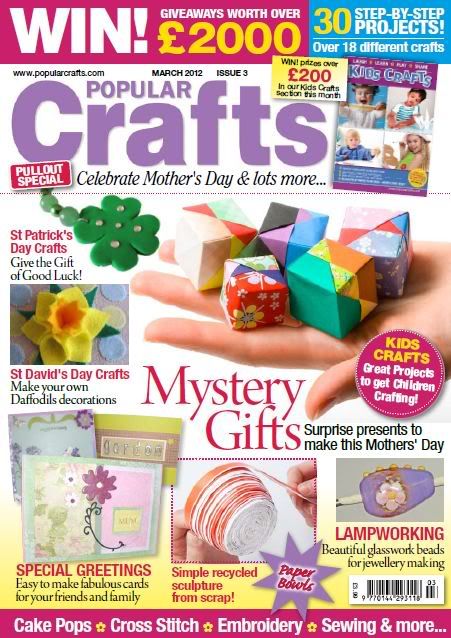 The frog is an easy one - and uses a braid from my new dvd -
Making Braids & Cords
. The next title in the series will be
Making Frogs & Fancies
- so if you enjoyed making the one in this tutorial, watch this space!
As many of you will know, my launch show on Create & Craft ended up being cancelled at quite short notice. The joys of live telly I suppose! Still, at least it has given me a whole week extra to make up more samples! I know that those of you who follow me for the historic information will already know why you may wish to learn how to make the braids & cords I have chosen - and where you want to use them, but for the very wide variety of crafters who tune in, I need to give other ideas. This can be challenging - but also very interesting. I get to play using more modern materials, and it is another learning experience for me.
So, just to re-cap - my next show is at
8am, Sunday 26th February 2012
- this will be the official TV launch of Making Braids and Cords, and I really do hope you'll be able to tune in and see what's been included on the dvd.
Fingers crossed nothing gets cancelled! If you follow me on twitter -
@GinaBSilkwork
any last minute changes to the schedule are usually posted there (plus other silly bits and pieces!)